How Margaret Gives Back !
When it comes to my chosen charities, I pick those near and dear to to both my families: my immediate family and my work family at Dexter Realty.
Donating to Delta Hospital - My Choice for Personal Family
For my family of four, there's little more important than supporting the hospital that saved my son's life.
Having encountered no food allergies or issues with my oldest daughter, I'd been pretty confident about introducing my son to different foods. When he was 10 months old, I gave him a tiny bit of peanut butter mixed with solid food. Unlike his older sister, however, his response to peanut butter was terrible. He suffered a terrible anaphylactic allergic reaction. With his face turning blue, I called the hospital and rushed him to emergency. Delta hospital knew we were on our way and they'd clearly prepared for us. Only a couple of minutes after arriving, my baby boy was on a hospital bed, being attended by nurses and a pediatrician. They performed all the necessary tests and administered appropriate medication—they even took care of me, giving me a chair and some food.
Their quick reaction and preparedness saved my son's life that day.
And that's not the only time they've helped my family. My son had another incident, when he was severely ill with a persistent high fever that just won't break. Once again, the medical team at Delta Hospital took great care of him. They checked everything, took x-rays of his lungs, and even gave him juice and snacks, which kept him comforted throughout their testing.
I couldn't be more grateful to the hospital's incredible team, and I love being able to show my appreciation for their efforts.
Ride To Conqure Cancer - My Choice for My Work Family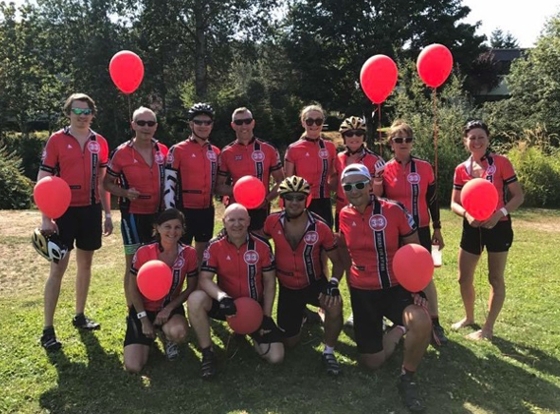 Dexter has been my work family for the last 15 years and I can't imagine wanting to be anywhere else. Before finding Dexter, I felt like I was simply drifting from job to job, unable to settle into any one role or be inspired to transform that job into a real, meaningful career.
Then I found Dexter.
David Peerless and all the wonderful agents welcomed me, took me under their wings, and helped me find my feet. David mentored me, offering support and guidance whenever I faltered. It can't have been easy, helping someone so young enter the real estate market in a position to succeed—but they never complained. And suddenly there I am, in my early twenties, building a career as a realtor.
Through Dexter I found my husband (or perhaps we should say, he found me), and I learned the importance of giving back to the community. Dexter sets a high standard for charity work, and I've wanted to be part of continuing that work.
One of Dexter's primary charities is the Ride to Conquer Cancer.
The managing brokers, especially David Peerless, and lots of Dexter's agents pull out their bikes and ride in support—and many others donate funds to support those riding. It's just such a worthy cause. If you haven't lost an immediate friend or family to cancer, odds are you know someone who has.
While I'm not riding this year, I am supporting a friend and colleague who is: Marilou Appleby.
One of the nicest people you could ever hope to work alongside, Marilou has supported me from the start. From my first, early days at Dexter, I've been in awe of this professional, caring, kind, and just absolutely classy woman. In truth, she's been an inspiration—a role model—and she's always had my back. When I was out of town on a training conference one of my clients found their dream house and Marilou might not be an official teammate, but she was there for me. She went above and beyond, helping my client prepare and present an offer in the midst of an intense multiple offer situation—and of course that client had the winning offer.
It is always my pleasure to help and support Marilou and everyone at Dexter Realty in anyway I can.
We LOVE our families, our friends and our communities !